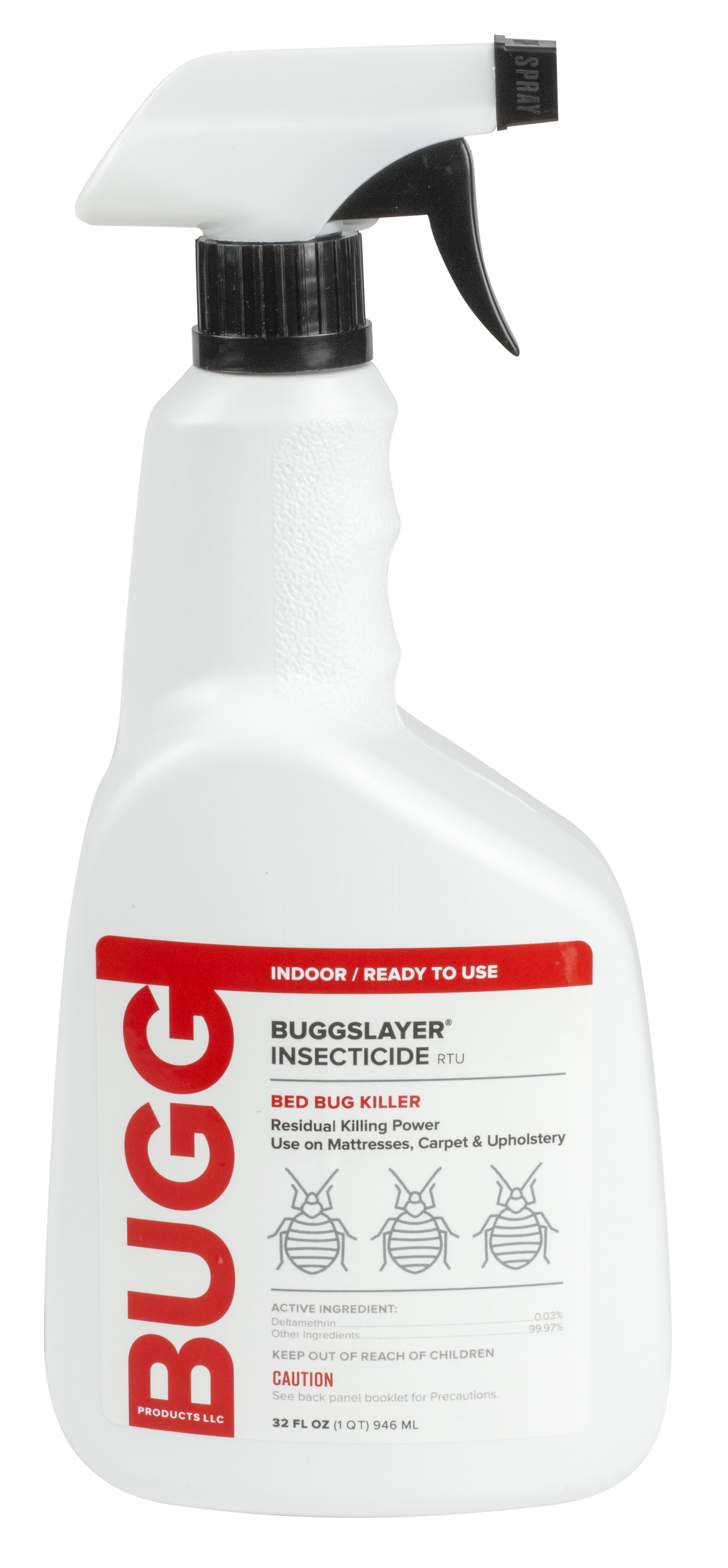 BUGGSLAYER ready-to-use indoor insecticide 32oz
$15.95
32 fl oz
DON'T CALL AN EXTERMINATOR! Save money with Do-It-Yourself Home Pest Control.
READY-TO-USE, no mixing required
Specifically labeled to kill BED BUGS  
RESIDUAL KILLING POWER
Odorless and non-staining
Does not stain surfaces, does not stain fabric (product is non-staining on water safe surfaces)
No oily residue
Kills in 24 Hours (not a knockdown killer)
Use on mattresses, carpet and upholstery
INDOORS – Bed Bugs and Lice: Remove linens and bedding, wash and dry on high heat before reuse. Spray mattresses and box springs, especially tufts, folds and edges. Apply to the interior of the frame. Allow to dry before remaking bed. Also apply to and behind headboard, bed frame legs, carpeting near baseboards, furniture, upholstery, window coverings, draperies, and luggage. Allow all treated areas to thoroughly dry before use.
Also kills Asian lady beetles, ants, armyworms, bees, birch catkin feeders, box elder bugs, centipedes, cluster flies, cockroaches, crickets, earwigs, fire ants, fleas, flies, gnats, grasshoppers, hackberry psyllids, hornets, leaf-footed bugs, mosquitoes, palmetto bugs, scorpions, silverfish, spiders, springtails, stink bugs, ticks, wasps, waterbugs, western conifer seed bugs, yellow jackets plus many more (listed insects)
Sites of Use – apartments, atriums, attics, automobiles, awnings, basements, bathrooms, bedrooms, boats, boat covers, boat interiors, boat lift canopies, boat lift covers, cabins, campers, canopies, carports, car covers, cat sleeping quarters, clothes storage, condominiums, crawl spaces, decks, dens, docks, dock lines, dormitories, driveways, eaves, foundations, garages, gazebos, homes, hotels, kennels, kitchens, lanais, living rooms, mooring lines, motels, parlors, patios, pet sleeping areas, play rooms, pole barns, porches, recreational vehicles, rooms, rope, siding, solariums, storage areas, storage barns, storage sheds, sun rooms, utility rooms, utility sheds, verandas, watercraft and yachts.
UPC: 790493412328